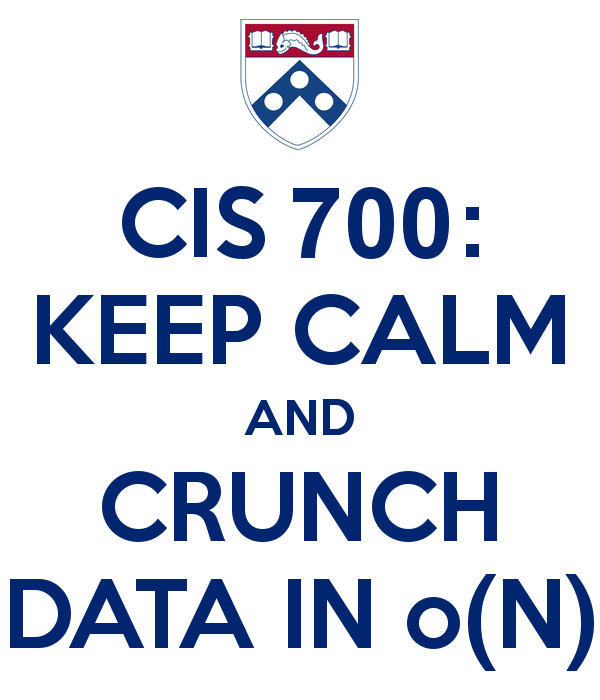 What? This class will give you a biased sample of techniques for scalable data anslysis. Target audience are students interested in algorithms, statistics, machine learning, data mining and related areas.
Who? Grigory Yaroslavtsev.
When? Fall 2015, MW 10:30 – 12:00
Where? Towne 307.
Need permission? Please, send me an e-mail with relevant coursework you have taken. In most cases permission will be granted.
Office hours? By appointment.
Prerequisites? There are no formal prerequisites, but you should be familiar with the basics of algorithm design and analysis, discrete mathematics, probability and have general mathematical maturity.
What's next? Consider starting a research project using techniques you learned in this class. You can also try some open problems: sublinear.info
Sketch*
Increasingly large datasets are being collected by governments, private companies and research institutions. This motivates increased interest in the design and analysis of algorithms for rigorous analysis of such data. In this class we will consider algorithms for scenarios when the size of the data is too large to fit into the main memory of a single machine. Two main paradigms of computation that we will focus on are massively parallel computation (applicable to frameworks such as Yahoo!'s Hadoop, Google's MapReduce, Apache Spark and Microsoft's Dryad) and streaming algorithms (Apache Storm and Spark Streaming).

This class covers a rapidly evolving area. There is no textbook. Some related classes at other universities:


* Usually there is an abstract here.
Lectures
This class will focus on fundamental principles of algorithm design for big data processing. Most of these principles are very robust to the choice of a specific platform, system or computational model. Thus, the lines drawn between different parts of this class are sometimes blurry and only serve as an approximate guideline.
Part 1: Streaming Algorithms

Data streams represent a large dataset as an arriving online sequence of updates to its entries. Streaming algorithms extract only a small amount of information about the dataset (a "sketch"), which approixmately preserves its key properties. Such algorithms are typically allowed to make only one pass over the data (or very few passes). The typical goal of algorithm design is to minimize the number of passes and space, while achieving the best possible approximation guarantee. All algrotihms discussed in this part are based on linear sketching, a powerful technique with multiple applications that go beyond streaming.
Part 2: Selected Topics

This part covers an assortment of selected topics in algorithms for large matrices and vectors, convex optimization and compressed sensing.
Week 1. [Slides (pptx, pdf)] Subspace embeddings, L2-regression. Leverage score sampling, computing approximate leverage scores.
Week 2. [Slides (pptx, pdf)] Smooth convex optimization, gradient descent, accelerated gradient descent, stochastic gradient descent.

Yurii Nesterov: "A method of solving a convex programming problem with convergence rate O(1/k2)." Soviet Mathematics Doklady, 1983
Part 3: Massively Parallel Algorithms

In massively parallel computational systems (clusters) the data is partitioned between a large number of identical machines connected via a high-speed network. An algorithm proceeds in synchronous rounds, each consisting of local computation performed by each machine followed by an exchange of information through the network. The typical goal of algorithm design is to minimize the number of synchronous rounds, while optimizing the time/space, communication, approximation, etc.
Week 1. [Slides (pptx, pdf)] Model for massively parallel computation. Sorting. Graph connectivity and applications. Algorithms for geometric graph problems.
Part 4: Sublinear Time Algorithms

In this part we will focus on algorithms, which have access to the entire dataset. However, the size of the data is prohibitively large so that we can only make a small number of carefully chosen queries to it. The goal of algorithm design is to approximate interesting parameters of the dataset and study its properties while minimizing the number of queries and running time.
Week 1. [Slides by Sofya Raskhodnikova (pptx, pdf)] Sublinear time approximation and property testing. Testing properties of images. Testing sortedness and monotonicity. Testing connectedness and approximation on graphs.
Project

Deadline: December 18, 2015. Details about the project: [Slides (pptx, pdf)].